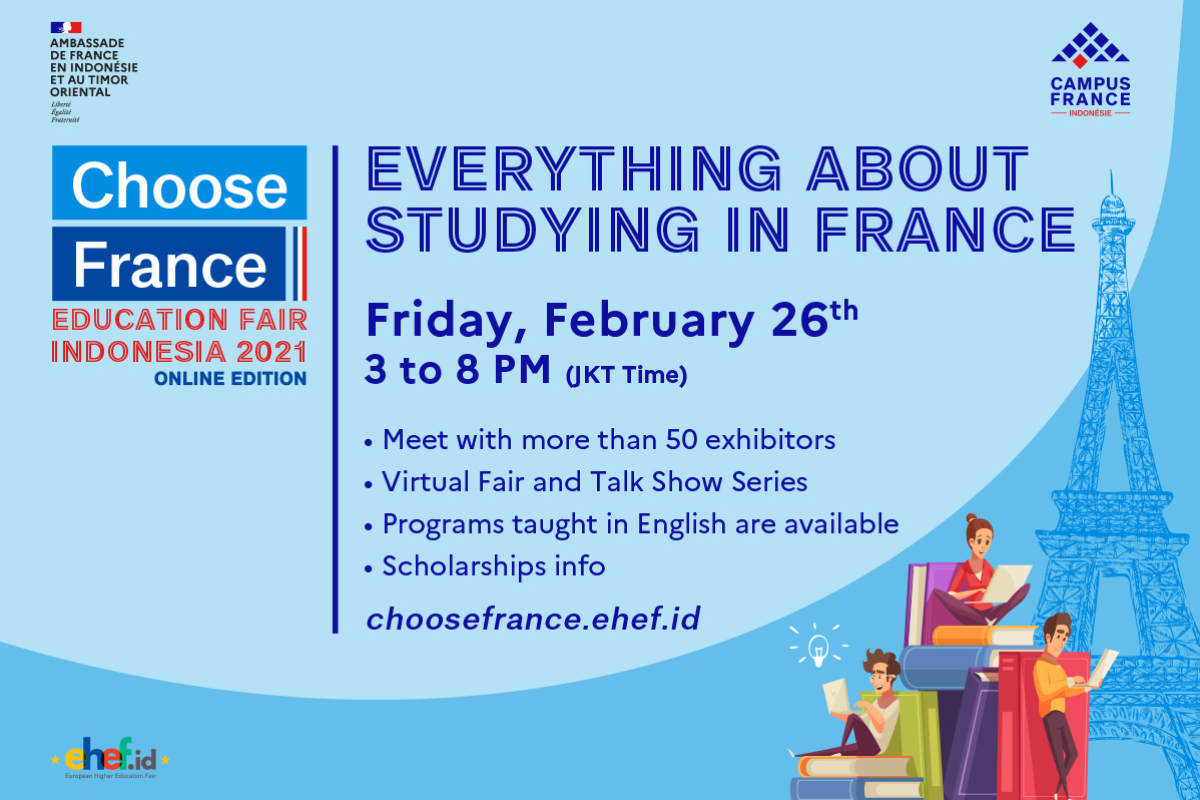 Deskripsi
Registration: choosefrance.ehef.id
CHOOSE FRANCE Education Fair Online Edition
connects you to France as the perfect destination for international students. Every year, 350.000 international students are welcome in France, the most popular non-English speaking country for overseas education. Seize the opportunity to interact with the official representatives by virtual consultation during the fair.
Studying in France, at university or one of the Grandes Ecoles, has many advantages. In particular, it means benefiting from one of the world's best and most accessible systems of higher education.
VIRTUAL FAIR
More than 50 French higher education institutions are present at Choose France Education Fair Indonesia 2021. Campus representatives and Alumni from Indonesia are waiting for you and can be contacted directly throughout the exhibition. Get in touch with them to know more about study programs, admission requirements, available scholarships, student life, job opportunities, and many more.
TALK SHOW SERIES
Talk Show Series is a series of thematic talk shows featuring representatives of higher education institutions in several fields. Discover the essence and competitive advantages, as well as the academic and professional opportunities of each institution.
Save the date and get eTicket now!
Terms & Conditions
The organizer is responsible for this activity, please read the description carefully before register or making payment.
LiveLife does not take responsibility for what happens during the activity, please ask the organizer if you need any clarification.
There is no refund for payment made, unless the organizer decides to cancel the activity.
Please login to livelive to check your payment status or registration status.