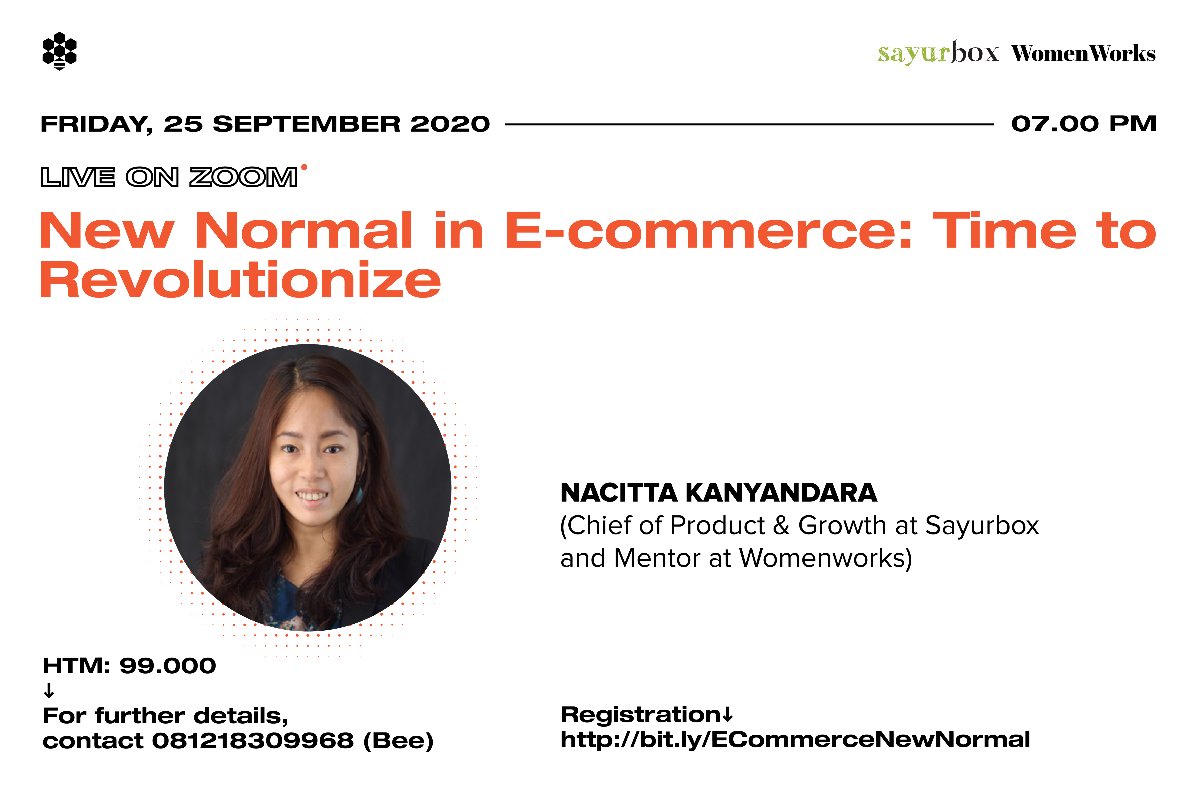 Deskripsi
How will the world be like in the post-pandemic era? In the new normal, shopping online is not simply for convenience, it has become a necessity. Setting up an e-commerce site is now more important than ever. Ensuring a great customer journey is in the heart of every e-commerce set up: from the right assortments, a well-crafted user interface, to robust supply chain management. Alterations in consumer behavior, unprecedented surge in demand, as well as maintaining in-time deliveries have been the greatest challenges faced by ecommerces. 
Therefore, it is truly critical to implement new and sustainable strategies that will fulfill customer needs and ensure the optimum operations in all lines of businesses. From a 1 hour knowledge-packed workshop by WomenWorks, you will learn how to set up your e-commerce operations.
About the speaker:
Nacitta Kanyandara is currently the Chief of Product and Growth in Sayurbox. After getting her MBA role at University of Pennsylvania, she kick-started her career as a Consultant in McKinsey & Company. Before she worked in Sayurbox, she had the opportunity to become the Head of Commercial and Business Expansion in GrabKios (Grab), which is Indonesia's leading Online-to-Offline (O2O) platform that enables digital entrepreneurs across Indonesia to expand their income by giving them access to various online products and services.
Register now!
Date: Friday, 25 September 2020
Time: 19.00 WIB
Location: Zoom
HTM: 99K
Registration Link: http://bit.ly/ECommerceNewNormal
Save the date and get eTicket now!
Terms & Conditions
The organizer is responsible for this activity, please read the description carefully before register or making payment.
LiveLife does not take responsibility for what happens during the activity, please ask the organizer if you need any clarification.
There is no refund for payment made, unless the organizer decides to cancel the activity.
Please login to livelive to check your payment status or registration status.