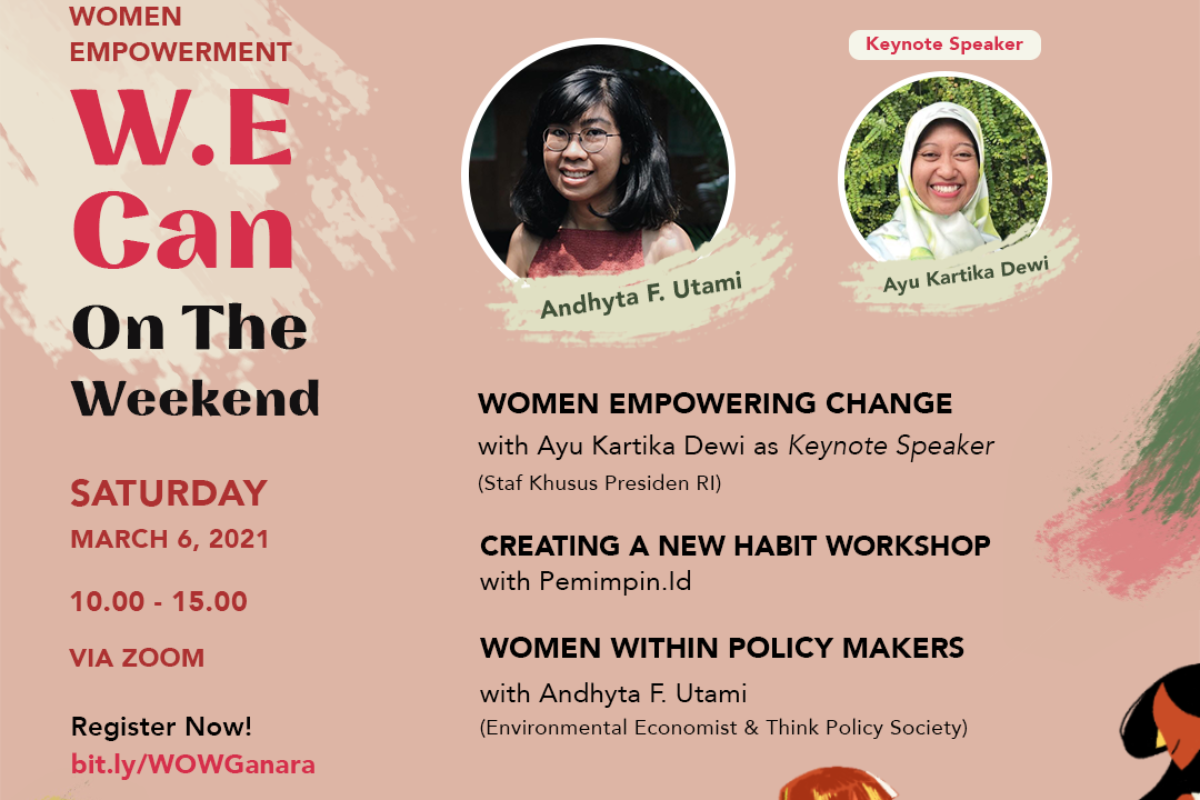 Deskripsi
W.E Can on The Weekend/Weekdays (W.O.W) adalah serangkaian kegiatan interaktif yang bertujuan untuk memberikan pemahaman mengenai kesetaraan gender dan pemberdayaan perempuan.
Sebagai komitmen dari GANARA ART terhadap kesetaraan, W.O.W dirancang sebagai keberlanjutan program kesetaraan gender yang selama ini sudah dilaksanakan ke siswi-siswi SMA, kini menyasar ke perempuan 18 tahun ke atas dan mengangkat isu yang menguatkan, mulai dari mental health, self -eadership hingga empowerment.
Program ini dibagi menjadi 2 (dua) bentuk kelas; Weekday Class dan Weekend Class, kedua jenis kelas ini dapat diambil secara terpisah.


Weekday Class akan dilaksanakan pada hari Rabu, dirancang sebagai kelas pemantik dengan durasi hanya 1.5 jam di malam hari (after office hours) dengan tujuan untuk mengetahui lebih lanjut tentang perkembangan dan kemampuan diri.
Weekend Class akan dilaksanakan pada hari Sabtu, dirancang agar peserta menghasilkan project dan berproses bersama selama durasi 5 jam (termasuk break) dengan menitikberatkan pada tema konsep kesetaraan gender, kepemimpinan, serta pemberdayaan terhadap diri sendiri dan komunitas.
Registration Process via LIVELIFE
Go to https://livelifeindo.com and register to make your account.

If you get in from https://bit.ly/WOWGanara or from https://linktr.ee/ganaraartspace, you have to register or login first by clicking the Register or Login button on the right top of the page.

Head over to "What's on?" feature on the drop down "Menu" and tap on our event name: "WOW"

You shall be directed to our page and click on it.

Scroll a bit to know more about our events and click on the "Registration Ticket"

Please read carefully and select your type of classes.

Finish your payment within 1x24 time range, using GoPay or Bank Transfer to LiveLife (automatically using your own name) BNI Virtual Account .

If there are any problems with changing your order, due to our security system, please contact Ganara's admin at WA +6282211011050 (10.00-17.00 GMT+7) or click registerlivelife@gmail.com to send an email (24Hour). We will reset your order.

Our Admin will email you the link for W.O.W zoom meeting, prepare yourself & we'll see you soon!
Save the date and get eTicket now!
Terms & Conditions
The organizer is responsible for this activity, please read the description carefully before register or making payment.
LiveLife does not take responsibility for what happens during the activity, please ask the organizer if you need any clarification.
There is no refund for payment made, unless the organizer decides to cancel the activity.
Please login to livelive to check your payment status or registration status.